Why Nosara? There are so many different ways to rank places to live.  Cheapest, up-and-coming, most convenient, best healthcare, most spectacular beaches, authentic culture…the list goes on and on. The reason Nosara tops our list is simple… It is a great place to live, and it is growing the right way.
Our Ranking System Is Based on Two Things
Lifestyle
Call it lifestyle.  Call it quality of life.  Call it whatever you want.  Bottom line: What your life looks like on a day-to-day basis is the single most important thing to consider when moving abroad.  What you like to do needs to mesh with the lifestyle available in the places you're considering. Nosara has a very broad appeal.  As a result, many different types of people could be happy there. It's a small town right now, but it is poised for growth as it's getting more and more convenient to live there.
Direction
It's equally important to consider where the area you're considering is headed.  Is development on the rise? Is the community excited about the future or upset about where things are going? Is tourism increasing or decreasing? Park and I take this very seriously because when you find momentum heading in the right direction it makes investment pretty easy. Every place you consider is changing in one way or another.  Some places are changing for the good and others are heading in the wrong direction. This is really important to understand because whether you're moving or investing, it's important to make sure the timing is right. You might think you've found the perfect place. But over the next five years, over-development could destroy what was great.  Crime could rise.  The makeup of the community could change.  Or any number of other negative outcomes could occur. You can never know for sure what the future holds, but you can evaluate clearly what is happening in the moment and make an educated guess about which direction the area is moving in.
Top 4 Reasons We Love Nosara
1. The community
People from all over the world have chosen Nosara as home.  As it has grown, so have the services that make life easier.  It is the perfect balance of small town atmosphere blended with urban conveniences.
2. Nature
From waterfalls to turtles, the area is beautiful and the residents are committed to keeping it that way.  No development is allowed on the main beach of Guiones, so it looks it did 50 years ago.  What's even better is that it will continue to look that way for the next 50 years.
3. The town has benefactors
There are several affluent individuals who are involved in the community and are plotting its course moving forward. For some good examples of the type of development in Nosara's future, see Harmony Hotel or the new Asharam built for the yoga institute.
4. Quality of life
Obviously no destination is for everyone, but the diversity offered in Nosara is pretty amazing for such a small place.  And it's only getting better. From restaurants to leisure activities, there's plenty to love about Nosara today and even more to look forward to the future.
Nosara Investment Analysis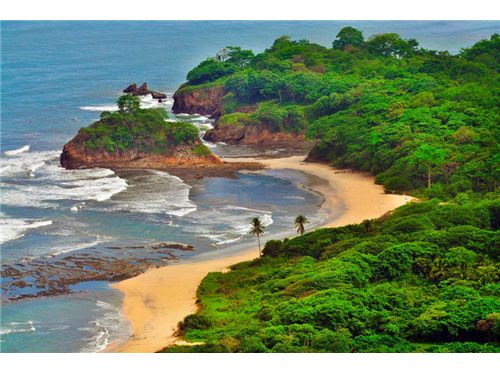 Above: North Pelada Beach, one of the several beaches that make up Nosara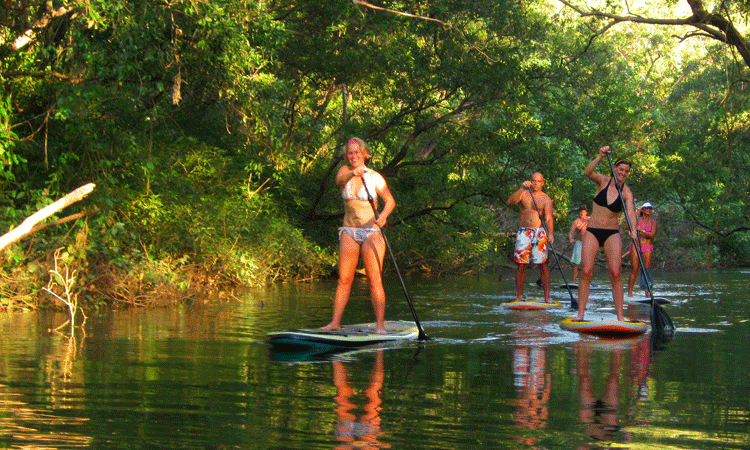 Why We Are Investing in Nosara, Costa Rica
Nosara is one of the hottest real estate markets in Central America.  And, more importantly, it is growing the right way. Noteworthy growth is happening now, but what I really like is that it does not rely on one group or trend. It is not uncommon to find a town on the Pacific Coast of Central America that is growing, but it is uncommon to find a growing town with such wide array of buyers. Even though I have lived here for 7 years I was convinced that other locations offered better potential. I have loved living here, but just didn't see it as place to do a project because I wasn't convinced that its growth was sustainable. Retirees alone cannot sustain long-term growth. Surfers alone cannot sustain long-term growth. Media coverage alone cannot work long-term. But all these groups together can do something special for the growth of a town. In the last two years the culmination of all of those factors has really been evident in Nosara and seeing this changed my mind about investing here. The main thing we're looking for when we scour the Latin Tropics: looking for catalytic ingredients that make one area better than everywhere else. We are looking for more than a "one-trick pony" that relies on unsustainable trends for growth. We want the right factors that we know combine for the "Next up and coming place"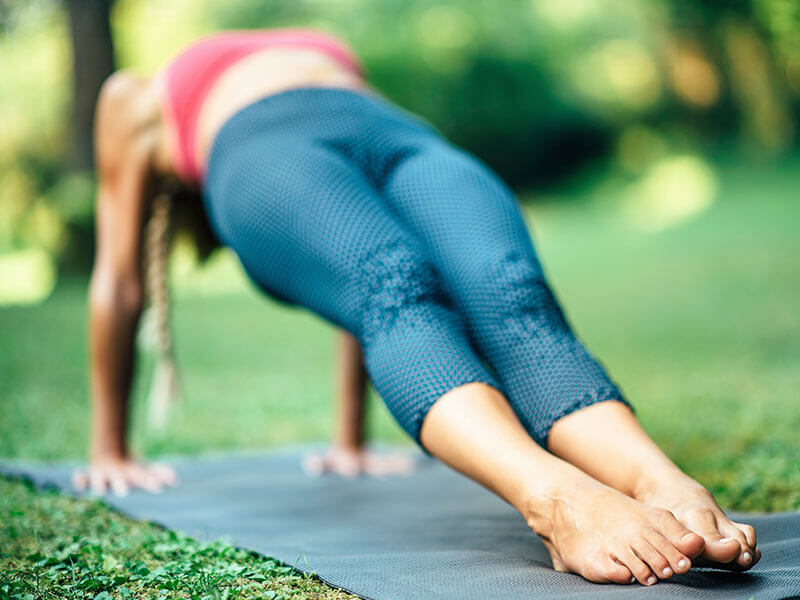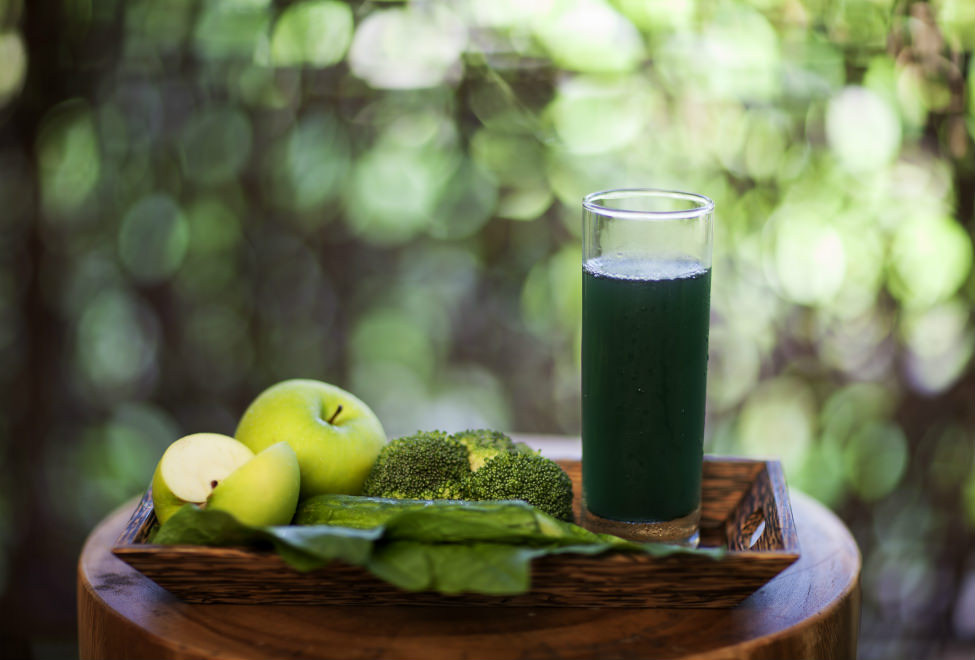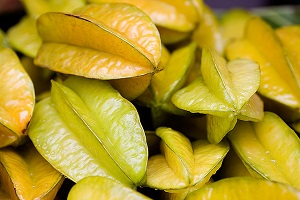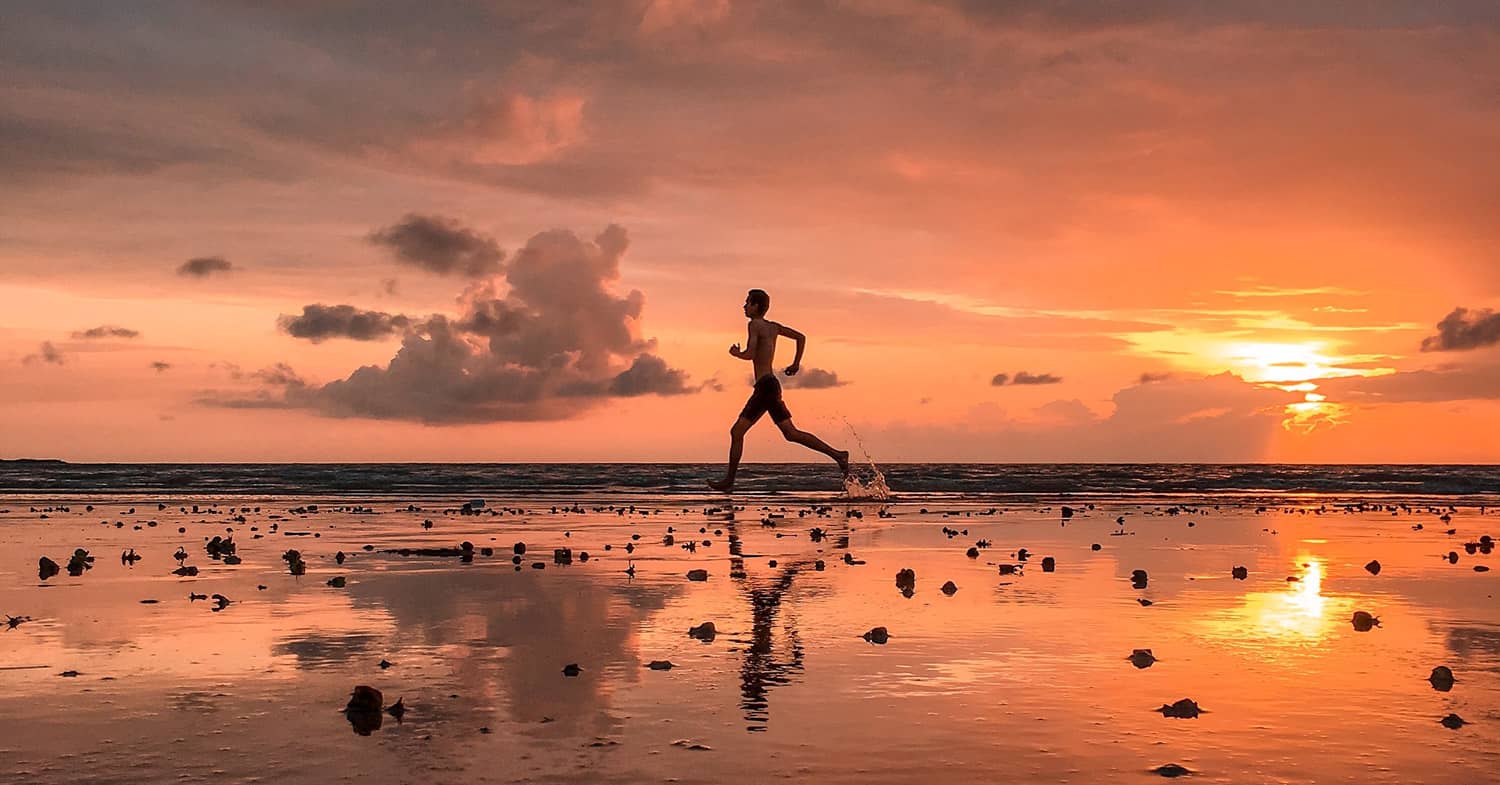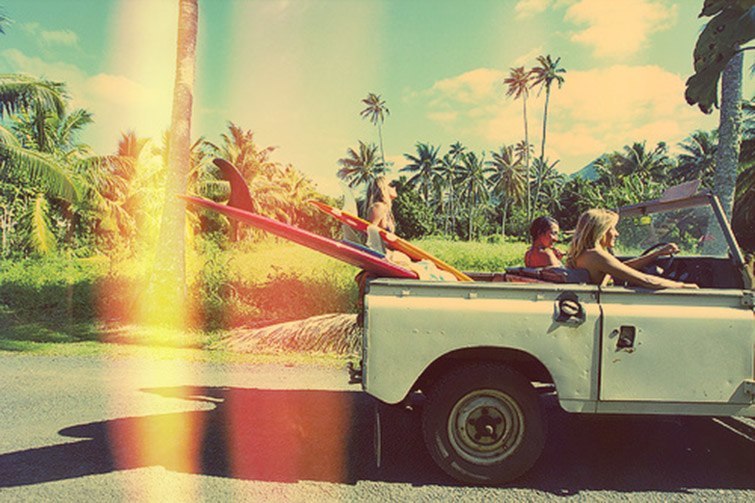 When People Love a Town, It's Good for Business and Investment
Tourism is increasing in Nosara and has been year over year since 2011, as long as the recovery of the world economy has been underway. As tourism has grown, so have the services that appeal to tourists. Entrepreneurs are building everything from restaurants to zip lines, to a new tennis club. In fact construction is at an all time high, and that includes housing too. Tourism or the flow of people into an area is a critical part of the local economy and must be understood to make prudent investments. But there is something else that has turned me from doubtful to optimistic to ready to jump into the Nosara market with both feet. It is the continued growth of full-time residents and the reasons behind why they are buying. Nosara has very broad appeal to all different types of people who are interested in living, investing, or retiring. They all want a piece of the lifestyle Nosara offers.  The desire to be in Nosara is very strong, and people are willing to pay high prices and make big sacrifices to do it.
What Happens in Vegas Stays in Vegas
I attribute this demand to the allure Nosara has, or what I will refer to as the "brand" of Nosara. If you think about it, every town has its own "brand" and the brand of a town is the amalgamation of everything that appeals to buyers and travelers.  From beaches to the feel of the community to the cuisine and so on. All these attributes have something to do with how people perceive a town. Because of this each town has a unique feel and appeal to buyers, its "brand." This is so important to know because buyers in Central America are choosing where they want to live based on what they think offers the best lifestyle. Normally people choose where to live based on a job or schools, but not down here. They are choosing based on what they think is their ultimate paradise.
So how do town brands matter in regards to real estate?
A great example of a town with a "brand" is Las Vegas in the U.S. The reason the brand comparison is important from a real estate perspective is this: it is the best way to explain Nosara's unique appeal to such a large and diverse group. Small tourist towns in Central America are greatly affected in terms of brand by who lives there and who wants to live there. For example, if the brand is cheap living, then it attracts people who want to live cheaply. If living cheap becomes the brand, then the odds are that people with money will not be interested.  Affluent buyers will be interested in some other town/brand and go there. There are literally hundreds of towns on the coast of Central America, and I have been to many of them and also watched many of them grow or not grow. And the bottom line is that barely any towns I have been to have the ability to transition from a little town (under 5000 people) to a big town (over 10,000 people) before the next ice age.
Only the Select Few Will Make It
To make the small town to big town transition effectively, the town must have wide appeal.  It can't be just about cheap living or surfing or golf. I realize this is contrary to what you might see in the U.S. or Mexico where entire communities are built around a golf course or low-income housing, but it is different here. The reason for this is the market is small, tiny compared to the U.S.  Consider this…3 million people each year visit the Grand Canyon in Arizona; only 2.2 million people total visit Costa Rica per year.  And Costa Rica is the most popular destination in Central America. When you consider the fact that visitors to the country of Costa Rica don't all go to the same place and that they are not all buyers, it quickly breaks down into different segments of behavior as they spread all over the country. This is why we have such a huge advantage. By knowing these behavioral trends and by focusing on the places that have the broadest appeal, we are poised to make incredible investments in areas with great potential. To grow to the next level, a town must appeal to different groups equally. Groups like retirees, surfers, Yogis, families, foodies, nature lovers, value seekers, wealthy people.  All of these people need to be convinced that the town is a good fit for them. This is why I am investing in Nosara.  It has that kind of appeal. I have watched it grow, and I like where it's heading.  From multimillionaires to surf bums, the town appeals to a wide range of individuals. This is why I am making some big investments in Nosara.
Birds-eye View
Zone 1 is the main town area.  Comprised of Playa Guiones and Playa Pelada, this is the center of the beach development and original project created over 30 years ago. Zone 2 is Garza Beach, a quaint fishing village a few miles south of the Nosara area. Opportunity Zone is where we are focused on looking for our next project. See Analysis section for why we love this area. The Nosara airport is highlighted in yellow.  This is also where the main grocery stores, hardware store, and gas station are located.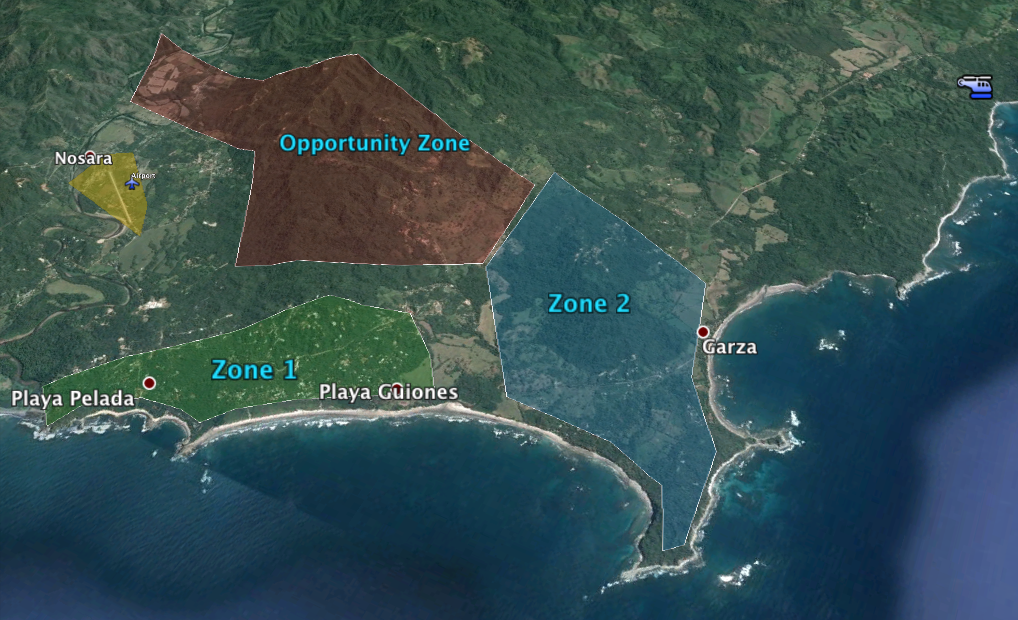 Why we call it the Opportunity Zone
The opportunity zone is what we have determined to be next up and coming area of Nosara. Relative to Zone 1 and Zone 2 the opportunity zone is very undervalued and has completely flown under the radar, because it was very difficult to access. We have found a project that offers great views, space, and incredible jungle landscapes, yet it is only minutes to everything Nosara has to offer. As towns grow they get busier and more expensive and this trend drives people to consider new areas for  living.  We are always looking for those areas before everyone else because we know it is just a matter of time before people start thinking this way.
So why is The Opportunity Zone the Next Up An Coming Place?
Let me be clear here. Beach front will always be the best and most expensive property in Nosara period. The question becomes what else will be valuable and how do areas progress as they grow? If the beach is the first place to get expensive then what are the other attributes that create value? Proximity to services is important, good design matters, but there is something else that has been proven to hold value very very well, a view. The Opportunity Zone has views in abundance and with good access people will take notice.
THE TRUMP CARD
One of the reasons the opportunity zone has not already been disovered is the road up to this area was a beast. It was so bad that when you got to the top you wondered if your kidneys would still function from all the bumps.
The small group of owners that were the early adopters would have to band together every dry season and have the road fixed, but by the end of rainy season it would be trashed again. The cost was too great for the small group of people to do much more fix it once a year and so the area suffered from poor access. Flash forward to late 2016… It turns out the valley 10 minutes below can occasionally flood and when it does the main roads in and around Nosara get covered in water making an exit impossible.
This is obviously a problem if there is an emergency of some sort during the flood, how do you get people out? Because of this the government of Costa Rica decided they needed a reliable road out of the valley to get to the near by city of Nicoya where the nearest hospital is located during a flood. The road they chose as an exit is the road to The Opportunity Zone. Now that road is under contract by the Costa Rican Government to stay passable and useable so ambulances can pass in the event of a flood.
The road is better than ever and a consequence more people are learning about this incredible corner of Nosara.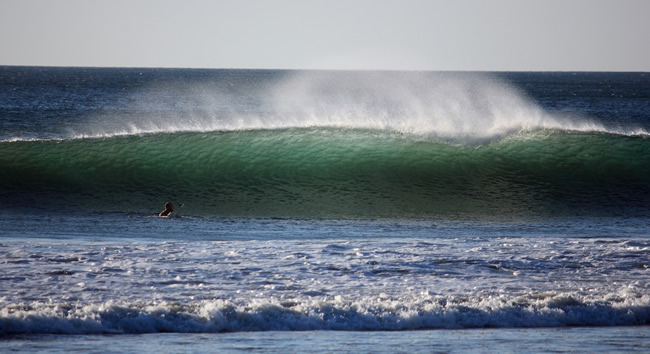 History Cannot Be Ignored
The Law of Growth
There is something you can count on in every city and town in Central America, it might as well be a Law of real estate. If there were laws of real estate it might be called "The Law of Growth". The Law of Growth states that as  a town grows development spreads out. Everyone can relate this simple fact. As places grow development moves  outward from the town center. I am sure you have seen this where ever you live, what was once fields for farming becomes housing developments. I have seen this several times Central America, but as usual the process is a little different here. What drives the market here is not the usual fundamentals like jobs or schools that you see in the U.S. or Canada. The market here is driven by lifestyle and if a town gets too busy, too dusty, and can't offer the same lifestyle people look for it somewhere else. In the case of Nosara it has become quite popular and has changed, people still love it, but the law of growth has opened new territory.  It provides a different lifestyle that is not as busy as town but close enough to enjoy all the conveniences. Nosara had plenty of space to grow 5 years ago,  but that is not the case anymore.  For the first time in this market there is a fundamental shift occurring and people are beginning to think about living outside original master planned community. Their interest is driven by better value, more space and a mellower life. The Opportunity Zone is perfectly positioned to benefit from this and the other information we have outlined on this page. This is why we are so excited about our new project and hope you join us.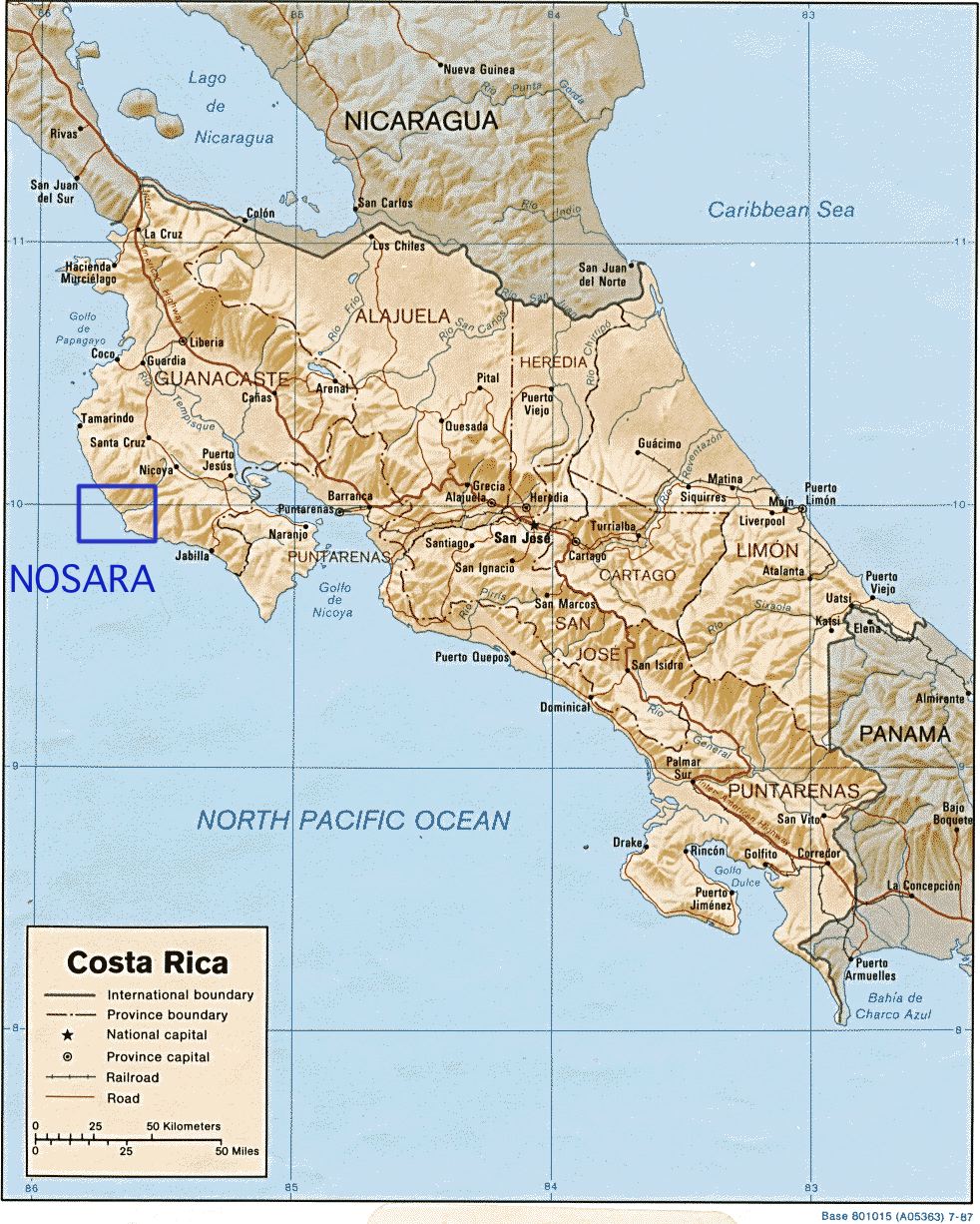 Nosara, Costa Rica is located on the Central Guanacaste coast on the Pacific side.
Getting there
Nosara is located two hours from the Liberia airport, which can be reached directly from several North American and European cities.  Nosara also has a small regional airport that accepts flights from San Jose and Liberia; the flight time is about 30 minutes. Note: Over 70% of Costa Rican tourism visits the Guanacaste peninsula where Nosara is located.
Media Coverage of Nosara. All Sorts of Articles
FOX Business talks about Nosara
Very interesting perspective, the cost of the house in the video is pretty common for Zone 1 (see below section) prices. The higher prices are why we are focusing on areas just outside Zone 1 for our next project, but it should be noted as the woman says in the video, she thinks the house is a bargain. This is one example of how Nosara is attractive to several different levels of buyers and why the market has real strength.
Del Mar School video
Neat video of the biggest school in the area and also has a lot of area footage from around Nosara.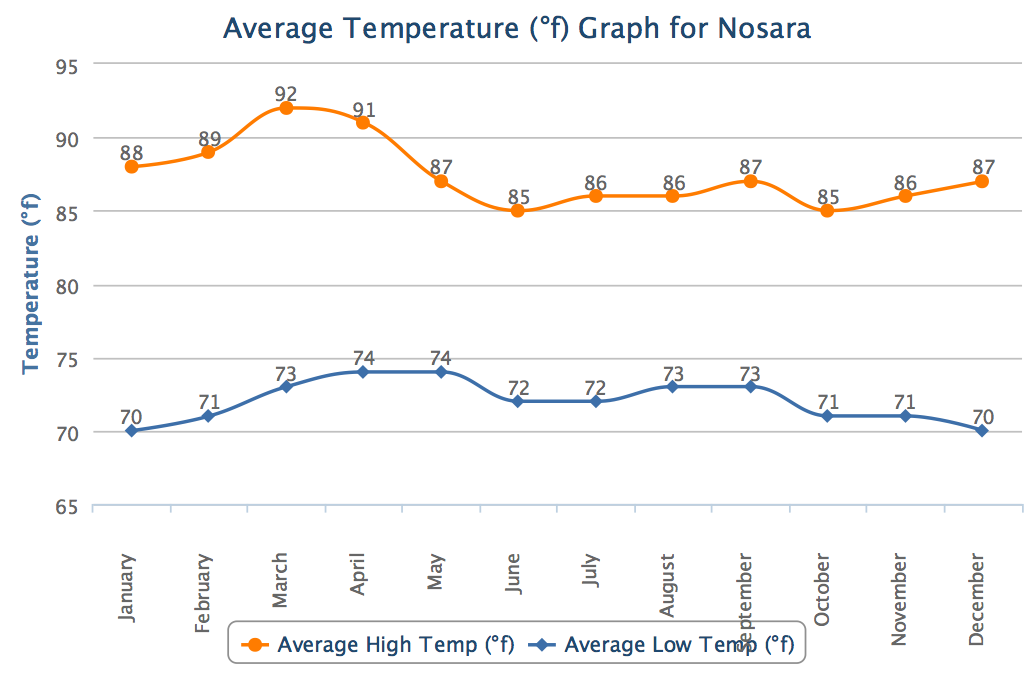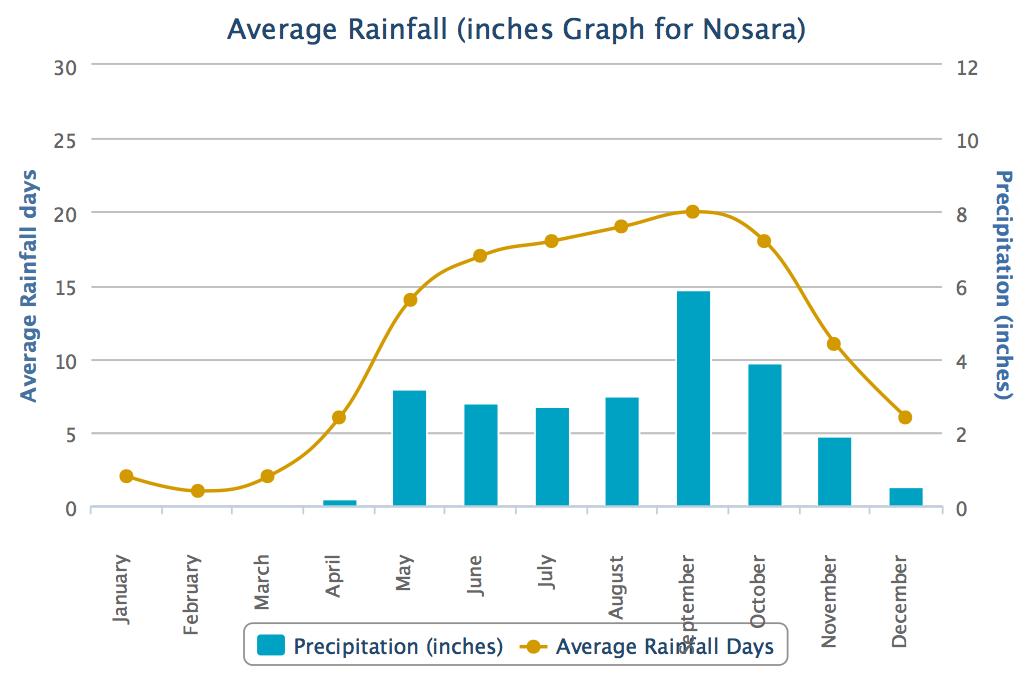 What is the weather like?
Here is a quick glance at what the weather is like annually in Nosara (see Chart 1). Rainfall is also measured (see Chart 2).
Don't Miss Your Opportunity
Fill in the form to the right for a detailed information package on our upcoming project in Nosara.  You'll also be added to the opportunity list for early discounts and investment opportunity.
If you have trouble with the form, you can also email us a request for an information package.